Date of Birth:

1923-6-5

Colour:

Red

Pattern:

Black mask

Country (birth):

Afghanistan

Country (current):

United Kingdom
Breeders
Owners
Notes:

1st notable Afghan from Afghanistan
Sire of 6 champions
Breeder Afghan Shikari Paghman (A Shikari, a mountain guide, and FROM the region of Paghman - Afghanistan)
DOB June,'23 on BRS no actual date on record
[Note added: I personally viewed his KC registration card when at the KC. This was when cards on all dogs with KCSB numbers were retained in the registration department card file, and on his registration the breeder was listed as Afghan Shikari Paghman. There was no mention of King Amanullah on the registration card - SHC]

eight CC's
Title December 7th, 1927
Sirdar was bred in the kennel of the king of Afghanistan at that time, King Amir Amanullah - http://users.skynet.be/vdomafghan/FAMOUS/SIRDAR%20OF%20GHAZNI.HTM
http://afghanhoundtimes.com/ghaznixx.htmSB reddish fawn black muzzle24"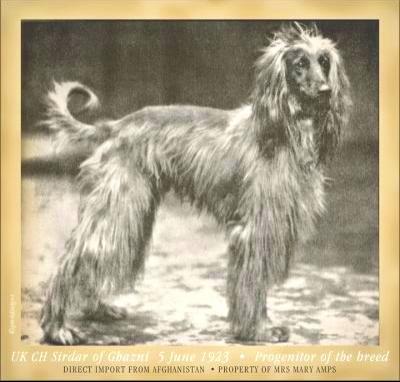 Created:

2020-03-12 15:21:42
Health Information
Competition
KC Stud Book Number:

KCSB 1230GG

Title Year:

1927
Pedigree Analysis
Additional Information
Articles:

http://www.afghanhoundtimes.com/ghazni.htm